Empire's Bikini Gold Project is located in the well-known, gold-rich Mayo Mining District, Yukon Territory.
The mining history of the Mayo area dates back to the Gold Rush. In 1903 placer deposits were of such value that the government decided to build a road to Mayo. The district was appropriately named 'Mayo' after one of its earliest traders Alfred Mayo.
The Bikini Project totals 18 quartz minerals claims that are located about 12 kilometers northeast of Emerald Lake. During the 1960's the area was explored for silver and tungsten. Base metals as well. The bulk of the work, from 1969 to 1982, was performed two Canadian exploration companies called Atlas Exploration and Agip Canada.
The properties were last worked in 1995 and 1996 by a Canadian exploration company who spent close to $1 million in exploration expenditures. Those expenditures included surface mapping, sampling and a three-hole 1,253 m drill program. Assays from that program are shown in the graph below.
Reported historical diamond drilling result particulars from the Yukon Assessment Report also include: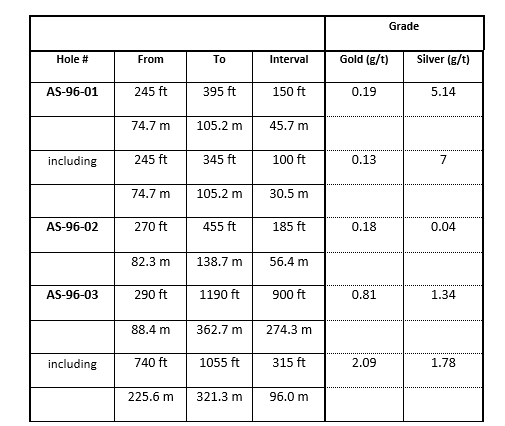 ***Readers are cautioned that these are historical results from 1995 which predate the requirements of National Instrument 43-101 and are not compliant with N.I. 43-101 requirements***
Reported exploration and drilling data include hole AS-3 where samples noted gold as "visible particles" in one zone in the drill core. Assays of that drill core include two five foot sections of 76.90 grams of gold per tonne (or 2.24 ounces per ton gold) and 26.67 grams of gold per tonne (or 0.78 oz/ton gold). These assays are part of a larger interval of 2.09 grams of gold per tonne over 96.0 meters between 225.6 m to 321.6 m.
Bikini Project Geology
The Bikini Project is a grassroots project located about 80 km NW of the Macmillan Pass airstrip just before the Northwest Territories and the Yukon border on the North Canol Road. The project comprises 18 claims (375 hectares) in four separate claim blocks   the claims cover significant mineral showings including the only project that has been drilled in the area on the Reid 1-6 claims. Empire acquired the property by option in June 2020 (See NR June 23, 2020).
The exploration target is intrusion related gold mineralization associated with 90 million year old Tombstone suite intrusions. Similar intrusions host economic mineralization at Fort Knox, AK and Dublin Gulch (Victoria Gold). Brewery Creek and Red Mountain.
Gold occurs as sheeted veins and stockwork within the intrusion which may also extend into the surrounding sediments at the intrusion margins.   Stream sediments collected in 2010 as part of a large regional program by Golden Predator have the highest first-order As (10,000 ppm) Bi anomalies in the region and with second order Au and Sb anomalies from the creek draining the north corner of the claims.